Come on everyone lets get behind a great Australian Event, HAY MATE – BUY A BALE – John Farnham and his Guests. A concert for our Farmers. Saturday 27th October 2018.
During a recent visit to one of our clients, Tamworth's West Entertainment Group, it was fantastic to see yet another NSW Club getting behind our farmers and hosting what will be a block buster concert with John Farnham and many other Aussie performers.
INFINITePOS Managing Director Mr Stephen Grosser, was humbled by the enthusiasm shown by Wests management team and their willingness to host a concert to raise money for our Farmers. "We hope the buy a bale concert raises much needed funds for the greater rural community, and in particular the North West Region to which I owe a great deal of gratitude" said Mr Grosser.  "My home town of Gunnedah, is situated just 45 mins from Tamworth and it was heartbreaking to see such a barren country side during this visit", Mr Grosser went on to say.
Hosting such an event requires infrastructure, planning, equipment and community support.  Without hesitation INFINITePOS committed to donating 12 additional POS Terminals to be used at this event ensuring people attending the concert are well serviced by the team at Wests.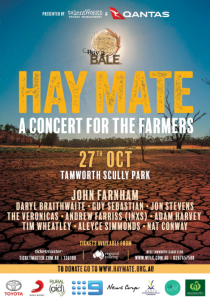 "We were extremely pleased that our software developers assisted with providing the necessary licencing required for the 12 POS Terminals.  A huge thank you to Keith Nothling and Graham Day from SwiftPOS", said Mr Grosser.
According to Mr Day, "SwiftPOS is delighted to assist INFINITePOS and one of our many Mutual Club Installations. Good luck Wests, you're in safe hands with INFINITePOS".
The Wests Entertainment Group incorporates four of the leading entertainment and function venues in the North & Northwest – West Tamworth League Club, Wests' Diggers, The Courts @ East and the Scully Park Regional Sporting Precinct.  According to Eileen Smyth (CFO) for Wests, "The generosity of all involved to assist the Farmers drought appeal concert is highly admirable. It is very moving to witness such spirit of support and kindness for the Farmers, it says a lot about the people you are and the businesses you run".
INFINITePOS has co-ordinated the delivery and networking Infrastructure of the 12 POS Terminals in partnership with the team at Leading Edge Tamworth.  A huge thank you to Mr David McDonagh and his team who have also kindly donated their time.
To all the sponsors, people attending and to the entire team at Wests, on behalf of INFINITePOS and SwiftPOS we wish you all the very best for a successful Buy a Bale Concert.
Tickets are still available for the event via www.ticketmaster.com.au  or www.wtlc.com.au
To Donate go to www.haymate.org.au