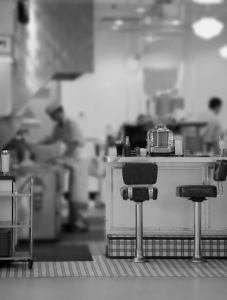 The SwiftPOS software provides the perfect solution to meet the requirements of Quick Service Restaurants .
This market is defined by the speed in which you can serve a large number of customers in a less formal restaurant environment.
Assign Table Numbers with each order for food delivery to the table.
Assign Order Names for customers waiting at the food delivery area.
Links with the Kitchen Video System and bump box for quick service.
Accept orders via the Web with integration tools for Web developers.
Take Phone Orders with ability to convert the last purchase into a new order with delivery details.  Caller ID supported and integrates with SwiftPOS CRM.
Consecutive Meal Order Number can be generated by the system and printed on both customer receipt and kitchen order, regardless of how many POS Terminals are in use as waiter stations.
Add unlimited free text for special orders.
Forced Modifiers for cooking instructions and sauces.
Split Items and/or split Bills with multiple EFTPOS payments or account charges for a single table.
Supports multiple Kitchen Printers with advanced printing options. Customer meal orders to the Kitchen printers have a larger, easier to read format.
View and Print Blackboard Specials with full Menu details.
"Sold out alerts with stock on hand displayed on the button.
Links to Menu Boards with warnings on sold out items.
SwiftPOS Reservations is fully integrated with table layouts and for booking specific tables.
Reservations links with Customers in the back office for integrated Customer loyalty.