Menu Boards allow you to display your Food Menu's and pricing directly linked to the SwiftPOS Touch Software.
If you are tracking the available serves of any items then the menu board will notify you when it has sold out.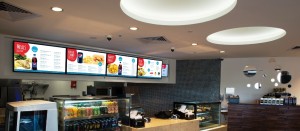 Menu board layout and design can be totally controlled by the Venue and can include video, graphics, backgrounds and flashing colours along with the menu of food items.
Click here for Hardware Options for SwiftPOS Menu Board Software