To Our Valued Clients, Industry Colleagues, Friends and Followers;
We are reaching out to you all in relation to our dear friend Jane.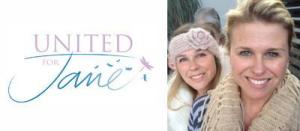 Jane is married and a mum to two gorgeous boys aged 10 and 7. Her boys go to school with our daughters.
During the past month, Jane has undergone surgery to remove a brain tumour and intensive rehabilitation. This is the second time in 4 years that Jane and her family have faced this challenge.
This is where we are asking for your help, if you are able.
The type of operation Jane required is unfortunately not covered under her health scheme and as you can imagine medical and rehab bills are substantial.
A website has been established sharing Jane's inspirational story.
There is also link on this web site on how to donate or purchase raffle tickets.
We would be so grateful if you are in the position to help Jane and her family. It would also be great if you could pass this onto your work colleagues friends and family.
We would like to thank our business partners, Toshiba Australia & BMW Sydney who were kind enough to offer up some great prizes as part of the raffle. There are some amazing prizes to be won and it is drawn next Monday.
We thank you for your consideration and look forward to catching up with you all very soon.
Kind Regards
Kristen & Stephen Grosser
Directors
INFINITePOS